One for all.®
The VISTA's intuitive design allows for multiple configurations, making transporting a second and third child a breeze — all while strolling like a single.
Roll with 1, 2, or 3
The family that strolls together, stays together. Literally. The VISTA starts as a single and expands to accommodate up to three children of similar or various ages and stages.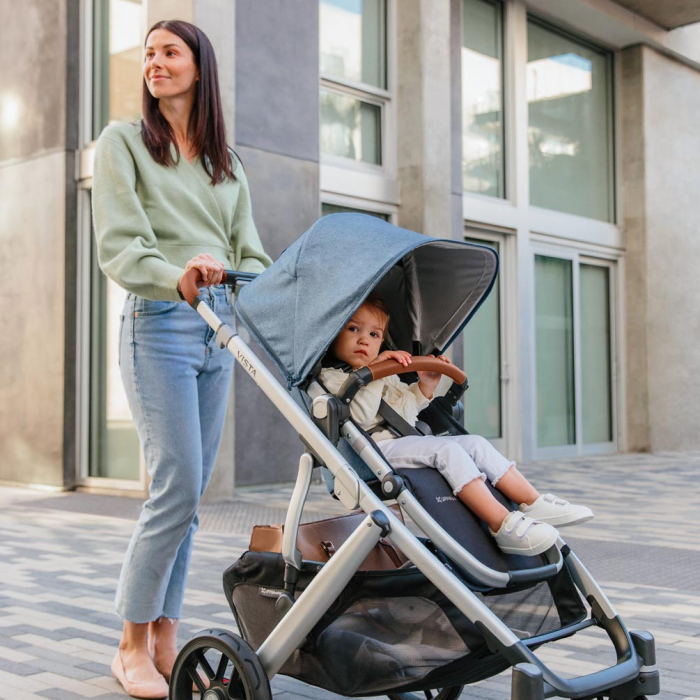 Roll with 1, 2, or 3
The VISTA allows for two infant car seats, two Carrycots, two seats – or a combination, offering plenty of positions to go and grow with your family.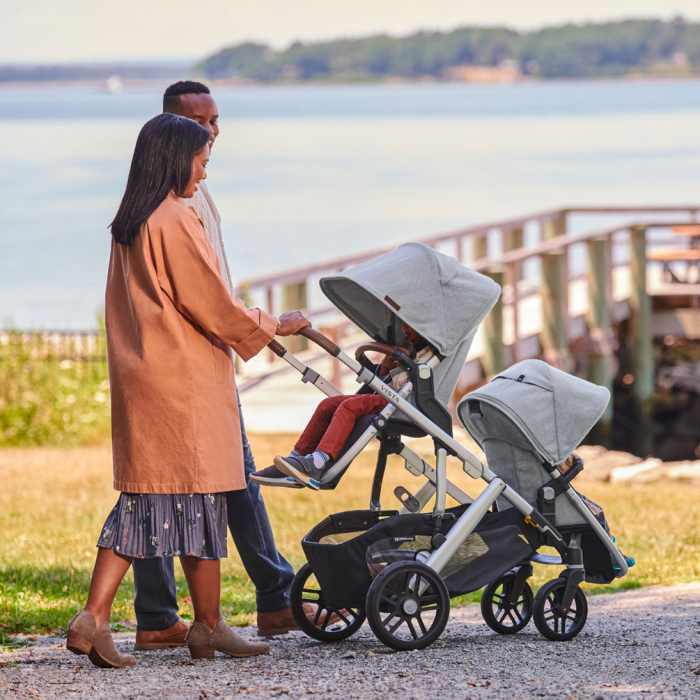 Roll with 1, 2, or 3
Perfect for young walkers who may need to hitch a ride, the VISTA accommodates a third child with the PiggyBack ride along board accessory.
Included Carrycot
Our included Carrycot is perfect for naps on the go. With just one hand you can detach the Carrycot and carry your sleeping infant anywhere.
Ventilated canopy and extendable UPF 50+ sunshade
The back of the Carrycot canopy unzips for additional airflow, and the pop-out sunshade shields your child from harmful UV rays, keeping baby cool and comfortable.
Aerated mattress and base
The perforated mattress pad and vented base allow for added breathability creating a truly comfortable and safe resting space for your baby.
Water-repellant inner liner
The inner liner repels spit up, sweat, and other liquids, keeping baby's sleeping surface dry and comfortable.
Overnight sleep solution
Need a safe place for baby to sleep? Our Carrycot depth and ventilation create a perfect overnight sleeping solution.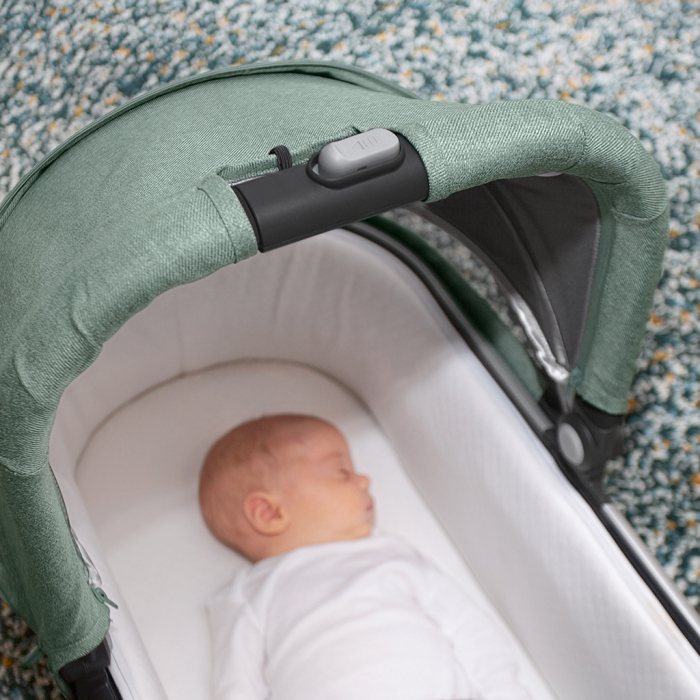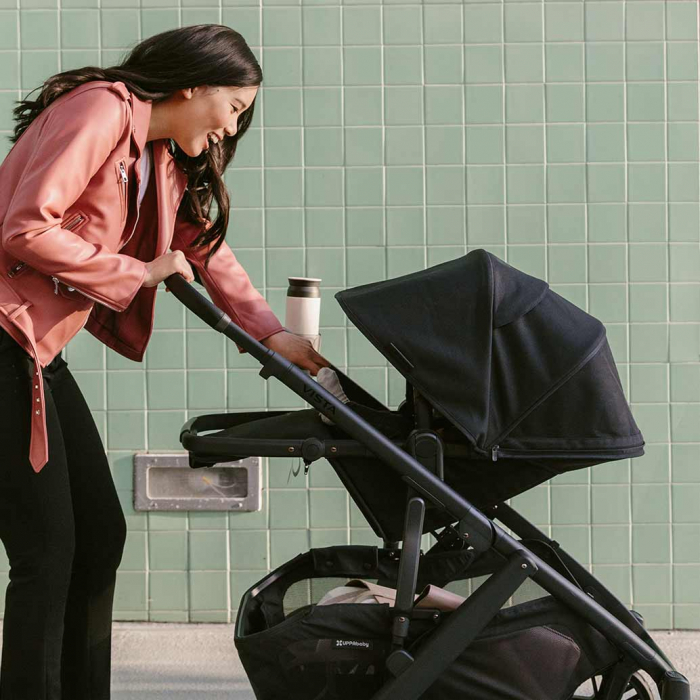 Reversible Toddler Seat
Your toddler can ride forwards, backwards, completely upright, reclined and anywhere in between.
One-handed recline
The multi-position recline allows your child to lie comfortably for naps or sit upright to take in the sights, offering the flexibility your busy toddler needs.
Extendable, UPF 50+ canopy
The zip-out canopy on our Toddler Seat extends to shield your child from harmful UV rays, allowing your family to enjoy even the sunniest of days together.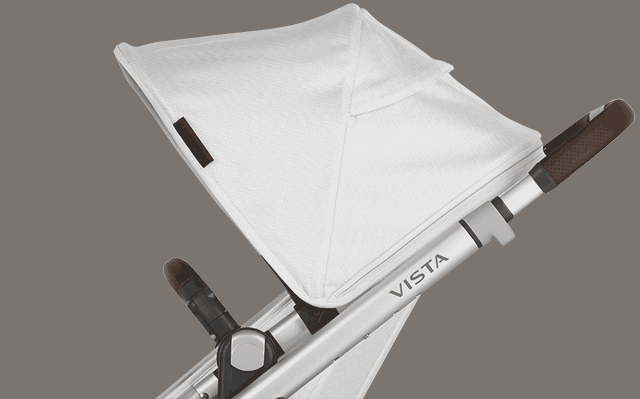 Telescoping leather handlebar
Our adjustable handlebar extends for parents of varying heights and features premium, full-grain leather for extra grip while pushing baby.
Height-adjustable canopy
Our easy slide canopy accommodates growing children.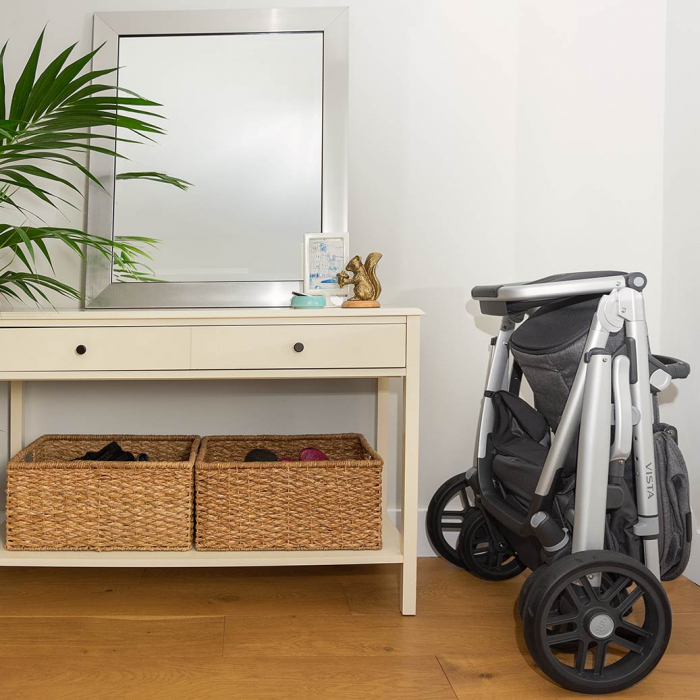 Stands when folded
The VISTA one-step fold is easy and intuitive. The stroller stands on its own when folded and can be folded with or without the Toddler Seat attached.
Extra-large, easy-access basket
The large opening means it's easier to reach your diaper bag, toys, and whatever else you pick up along the way.
Shock-absorbing, all-wheel suspension
Independent shocks ensure your child has a smooth and comfortable ride whether traveling down winding paths or over bumpy pavement.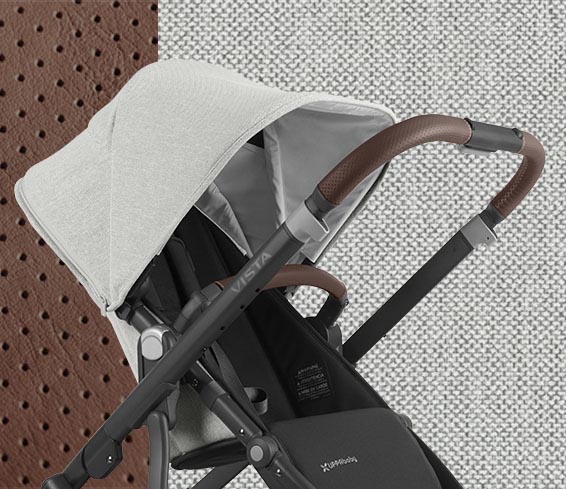 ANTHONY
white and grey chenille
carbon frame
chestnut leather
GREYSON
charcoal mélange
carbon frame
saddle leather
NOA
navy
carbon frame
saddle leather
STELLA
grey brushed mélange
silver frame
chestnut leather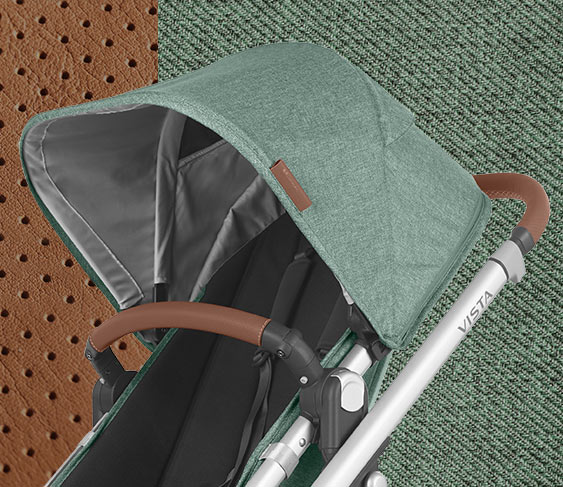 EMMETT
green mélange
silver frame
saddle leather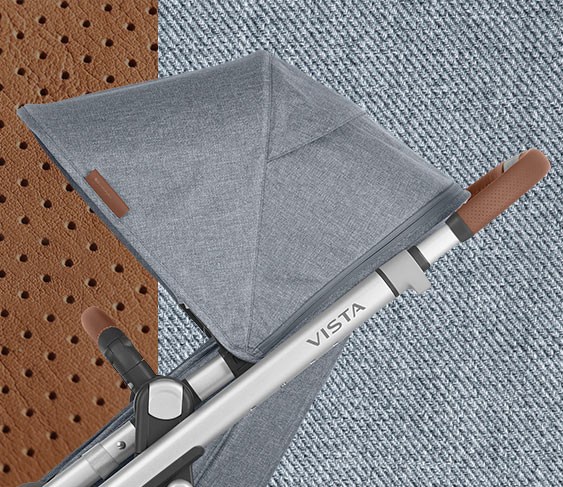 GREGORY
blue mélange
silver frame
saddle leather
JAKE
charcoal
carbon frame
black leather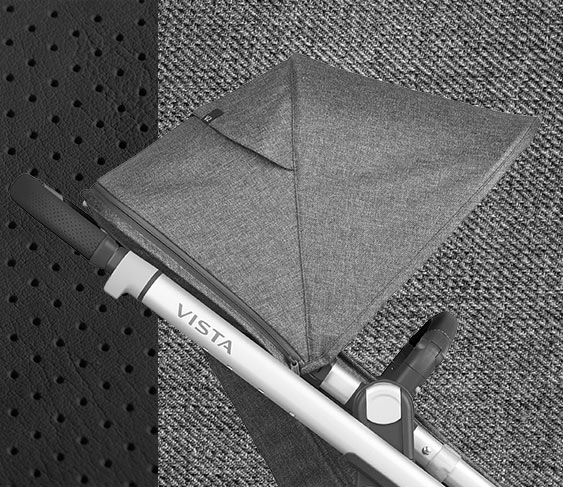 JORDAN
charcoal mélange
silver frame
black leather
Accessorize and expand
Infant Car Seat Compatible
Select infant car seats attach to the VISTA with our car seat adapters. No need to sacrifice performance for convenience.
The VISTA is compatible with select Maxi-Cosi®, Nuna®, BeSafe® and Joie™ infant car seats with our Car Seat Adapter accessory.
Expansion options
Discover all the smart configurations designed to make transporting multiples easier. Our convenient Expansion Tool will help you find the perfect fit for your needs.
Infant + Toddler
With the addition of a RumbleSeat accessory or adapters, the VISTA expands to accommodate your new addition from birth, with their older sibling in tow.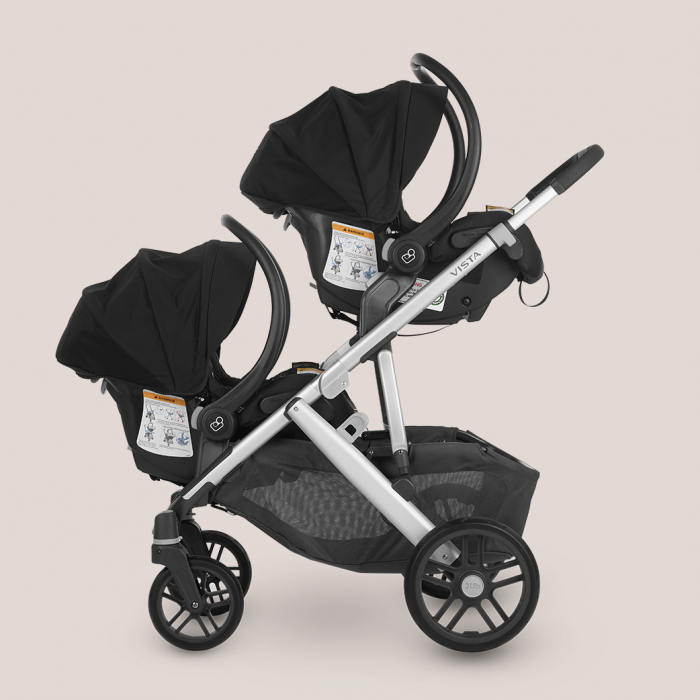 Twins
You are blessed with not one little bundle of joy, but two! The VISTA allows for two infant car seats, two Carrycots or two seats, revolutionizing travel with twins!
Toddler + Toddler
The VISTA expands to accommodate two toddlers of varying ages. Big brother isn't quite ready to abandon his stroller throne and walk along side. With the RumbleSeat accessory, your youngest one can nap while big brother takes in his surroundings.
Three in tow
The VISTA also accommodates even a third child with the PiggyBack ride along board accessory. Perfect for young walkers who may need to hitch a ride. The VISTA used with the RumbleSeat and PiggyBack can easily transport up to three children.
More bells and whistles
Our extensive collection of accessories keeps you strolling happy, wherever your travels may take you.
---
What's Included
Toddler Seat + Bumper Bar
Carrycot
Frame
Wheels
Toddler Seat Bug Shield
Toddler Seat Rain Shield
Carrycot Bug Shield
Carrycot Storage Bag
Specifications
Carrycot suitable from birth up to 9 kg or until infant can push up on hands and knees, whichever comes first
Toddler Seat suitable from 6 months to 23 kg
True Weight (includes canopy, wheels, and basket)
Frame + Seat: 12.4 kg
Frame: 9.1 kg
Seat: 3.3 kg
Folded: 44 L x 65.3 W x 84.5 H
Folded without seat attached: 33 L x 65.3 W x 81.3 H
Unfolded: 91.4 L X 65.3 W X 100.3 H
Key Features
Carrycot
Perforated Carrycot mattress pad, vented base and canopy for added breathability
Extendable, pop out UPF 50+ sunshade
One-handed release from stroller
Depth and ventilation provide an overnight sleep solution
Zip out, water-repellent inner liner and boot cover are easy to remove and clean
Toddler Seat / Frame
Ability to transport up to three children with RumbleSeat and PiggyBack accessories
Full-size reversible Toddler Seat
Five-point, no-rethread harness
Extendable canopy with UPF 50+ protection, zip out fabric and mesh panels
Vented peekaboo window
One-handed, multi-position recline
Adjustable handlebar
Extra-large, easy-access basket with 13.6 kg weight limit
All-wheel suspension
Front wheel locks with visual indicators
Infant car seat compatible with adapters
100% full-grain leather accents
One-step fold, stands when folded